DIAGNOSTIC SUPPORT AND RESOURCES


The heroes behind every General Motors vehicle on the road are the trade professionals who repair and help maintain it. To optimize your shop's potential, you need cutting-edge diagnostic support, programs and equipment. It's our goal to provide you with everything you need to get the job done right, with the appropriate tools at your fingertips.


TECHLINE CONNECT
The one-stop shop for diagnosing technical problems, Techline Connect (formerly TIS2Web) is the internet-based subscription service for GM vehicle calibrations, Global Diagnostic System software and scan tool hardware updates. A streamlined approach to resolving technical problems, Techline Connect integrates service information, programming and scan tool diagnostics.
BENEFITS:
Bring diagnostics and repairs in-house which can help improve profits

Quickly diagnose GM vehicles
Streamline vehicle calibrations
Equip trained teams to operate GM Software and handle time-sensitive issues with ease
Customize Techline Connect with multiple subscription options to better fit specific service and diagnostics needs
Compatible with most GM makes and models
Participants in my GM Partner Perks may be eligible for additional discounts†
CONTACT INFORMATION:
800-825-5886 (prompt 3, then prompt 2, then prompt 1)
Mon.–Fri., 8 a.m.–8 p.m. EST

SERVICE INFORMATION (Si)

Knowledge is power, especially when it comes to keeping your shop informed and up to date with the most current and accurate repair data from GM. Si is a comprehensive collection of vehicle diagnostic and service repair manuals for GM vehicles — so your shop has everything you need to help promote safe, proper repairs.
BENEFITS:
Help equip professionals to meet GM Original Equipment quality standards with accurate and current repair information
Quickly access comprehensive repair information including collision repair procedures, frame-sectioning information, panel-replacement procedures and recall information
Can help teams service repairs quickly, efficiently and correctly the first time

Features an expansive library of information that covers vehicle manuals, specifications, service bulletins, VIN tags and more (for GM makes and models 1998–Present)

CONNECTION users can receive Si at no charge by purchasing a minimum monthly target of ACDelco parts

Participants in my GM Partner Perks may be eligible for additional discounts†

SUBSCRIPTION INCLUDES:
GM Vehicle Diagnostic Service (1998–present)
Collision Repair Manuals (1998–present)
Frame sectioning information, panel replacement procedures and recall information
Campaigns, service bulletins and preliminary information for GM (1980-present)
GM Owner's Manuals and glove box supplements (2003-present)
Easy-to-use keyword/document/number search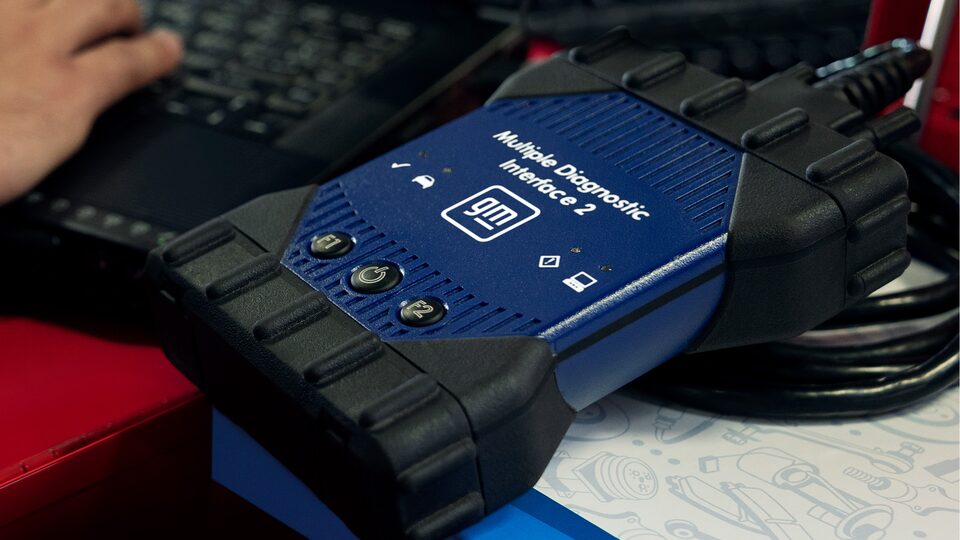 MULTIPLE DIAGNOSTIC INTERFACE 2 (MDI2)

Equip your facility with MDI2 to help properly diagnose GM vehicles. MDI2 is a GM Global Diagnostic Interface tool for both current and future GM vehicles that operates with Techline Connect to communicate with a GM vehicle.
MDI2 Features Include:
Wireless connection
High-speed USB 2.0 connection

Operation during engine crank
Extended temperature range
Enclosure design
Vehicle communication protocol coverage
DCL cable
New hardware expansion capabilities
This tool is required to diagnose some newer GM vehicles (starting with model year 2021). Model year 2010 and newer GM vehicles require GDS2 software running on a local computer, while MDI2 is connected to the vehicle.

GLOBAL DIAGNOSTIC SYSTEM 2 (GDS2) AND TECH2WIN

GDS2 equips professionals to scan GM vehicles for data and trouble codes for 2014 models and newer. Earlier model year GM vehicles vary between Tech2Win and GDS2 software.

Learn More About GDS2-supported Vehicles

GDS2 is required for use with MDI2.
SERVICE PROGRAMMING SYSTEM (SPS)

SPS software communicates with GM vehicles through MDI2 to update and/or program control modules within the vehicle.