In 1955, at the end of the Jet Age when engineers learned to make aircraft fly higher, faster and farther than ever before, the engine that reshaped what it meant to be a car was born. The world saw the Corvette, Camaro and Caprice speed off to the races before realizing the jewel under those hoods was a versatile workhorse. Over the years, this small-block V8 has been introduced into race cars, trucks, boats – even motorcycles – and is a choice engine for everything from GM muscle to competing makes and models as well.

Designed, engineered, tested and backed by General Motors, the 350 engine combines unyielding heritage with modern precision machining. And that adds up to another generation of service.


350 ENGINE

PROUDLY AMERICAN MACHINED AND ASSEMBLED

Built in Springfield, MO, sourced from the best parts globally.
WHAT'S INCLUDED

New cylinder head and block castings
New forged-steel crankshaft
All blocks are four-bolt main
All blocks are roller camshaft-ready
All blocks are mechanical fuel pump-capable (Gen1e has no camshaft eccentric)
Machined using state-of-the-art CNC
Machined and assembled in the USA of globally sourced parts
Three engine variants: Gen1 (P/N 19432778), Gen1e LD (P/N 19432780) and Gen1e HD (P/N 19432779)
WHAT'S NEW

Non-remanufactured engine assembly
New valve covers, oil pan, timing cover and harmonic balancer for convenient installation
End-of-line torque-to-turn, compression and oil-pressure testing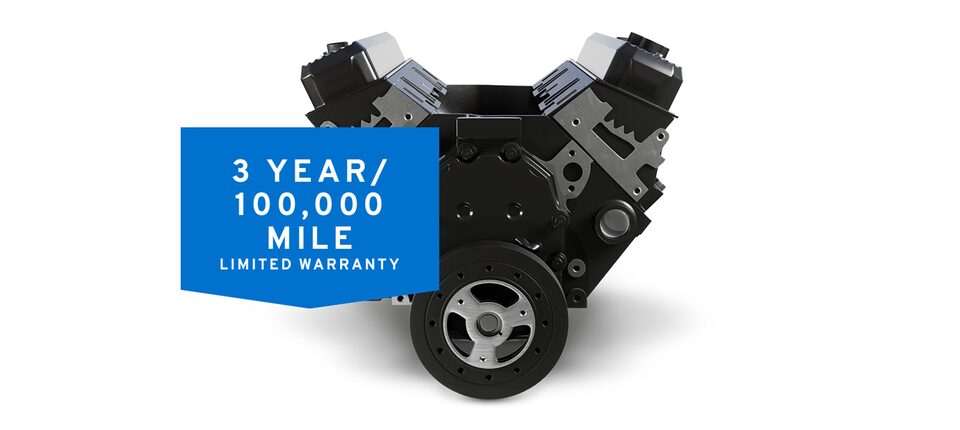 POWERFUL NATIONWIDE
WARRANTY COVERAGE

The 350 includes a transferable 3-year/100,000-mile limited warranty† honored by a broad network of service locations. More information is available here.
GET YOURS

It's easy to get your hands on the 350 – just contact your preferred GM dealership.
POWER UNDER THE HOOD

Certainty Starts Here: with GM Genuine Parts and ACDelco transmissions and other powertrain components straight from the source.